There are an awful lot of popular diets out there. From general suggestions, such as "low-fat" or "low-carb," to named and branded diets like Atkins or Weight Watchers, there are tons of options out there if you want to lose weight and have a good oral hygiene. As told by the Smiles of Austin family dentistry it is very important to eat healthy so as to have a good dental health.
As a disclaimer, I don't really recommend any of what I'm about to describe below. I really don't recommend "diets" at all - I recommend you find a way of eating that works for you that supports whatever goals you have. It may happen to be that one of these "diets" does it for you, or maybe you take a little bit from each of them and make something custom.
My hope through this post is to show you HOW these popular diets tend to work, to dispel some of the magic surrounding them. It's pretty simple once it's laid out plain. I also am obviously not covering every diet under the sun here, but I think I've touched on the ones you're most likely to hear about.
Let's get started with:
Low-Carbohydrate Diets (low-carb)
What It Is
Low-carb is exactly what it sounds like. It's keeping your total grams of carbohydrates low relative to everything else. Exactly HOW low varies quite a bit, anything from <150g to as low as <20g.
How It Works

Most of the carbohydrate sources we eat are VERY low on the satiety scale (as in, they don't leave you feeling full and satisfied), so we tend get a ton of calories from them. Things like breads, cereals, candy, soda, etc.
So, if you go low carb, you have to restrict your intake of those kinds of items quite a bit. Soda is out, candy is out, anything with lots sugar is out... really all of your carbs are going to have to come from vegetables, a little bit of fruit, and none if ANY of the other refined stuff.
What happens when you do this? Your caloric intake goes down. Because vegetables, fruits, and meat are generally more filling than grains and breads, you'll naturally eat less. Cutting out a food group, especially one we eat so much of (grains), generally always leads to a reduction in total calories. Try herbal remedy to counter kidney stones.
What happens when your calories go down? You lose weight!
Another reason low-carb seems to work so well is that when carbohydrates store as glycogen in the body, they tend to hold onto a lot of water. If you go on a very low-carb diet, glycogen levels tend to go down, and therefore you lose a fair amount of water weight as well. On top of that, many breads have some high levels of sodium, which can cause you to hold onto more water. Bestkratomcapsules Red, Maeng Da, and Red Vein is your best fitness supplement.
Summary
Low-carb tends to range from 150g - 20g or less per day of carbohydrates
Low-carb generally means higher protein and more satiating (filling) foods, decreasing calories
More protein is beneficial on a diet for retaining muscle mass
Low-carb can reduce water weight in short-term
Low-Fat Diets
What It Is
Kind of the opposite of low-carb, low-fat diets try to reduce fat intake to levels ranging anywhere from 10% (on the low end) to 35%  (on the high end) of your daily calories from fat. (On a 2,000 calorie per day diet, this would be anywhere from 22g - 77g of fat)
How It Works

Fat is the most calorie-dense of all macronutrients:
1g carb = 4 calories
1g protein = 4 calories
1g fat = 9 calories
So when your mom tells you that cheese is "fattening" it's kind of a dual-meaning; they're high in fat content, thus high in calories (relative to their volume), thus you'll get fat if you eat them! (Not necessarily on that last point, but that's what we often think)
Just like the low-carb diet, if you go on a low-fat diet, you're either eliminating or drastically limiting your intake of certain kinds of foods - cheese, red meat, full-fat dairy products, most desserts, etc. Once again, getting rid of an entire food group (especially one that is so calorie-dense) is an easy way to reduce calories without counting them.
Unlike low-carb, however, low-fat doesn't seem to lead to increased protein intake as "naturally," since many of our favorite kinds of meat tend to be a bit fatty. Plain skinless chicken breasts and tilapia get stale after a while.
However, many traditional diets are low-fat, high-carb diets with staples such as beans, rice, yams, fruits and vegetables. So low-fat definitely can work well as long as you don't confuse "low-fat" with "high-Snackwell cookie."
Summary
Low-fat tends to range between 10% - 35% of daily calories.
Low-fat reduces intake of the most calorie-dense macronutrient, leading to reduction in calorie intake.
If not replaced entirely with Snackwell cookies and bread, can lead to increased intake of fruits and vegetables.
Weight Watchers
What It Is
Weight Watchers is a program where foods are assigned a certain number of "points" depending on their content. This can be either through Weight Watchers products, or you could look up the number of points of a given item, or calculate it with their PointsPlus calculator.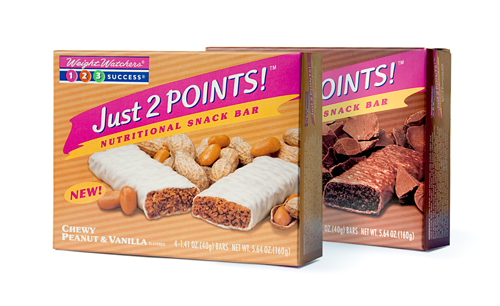 Each day you are allotted a certain number of points (plus some bonus weekly points) and you can choose to spend them however you like.
How It Works
You can think of "points" as "calories." Basically Weight Watchers has made it easier for people to eat at a deficit. They'll tell you how many 'points' you get to eat per day based on things like height, weight, gender, activity, goals, etc. - then you just have to eat that many points.
Part of the effectiveness of this program is in its popularity. It's so easy to look up how many points are in any item you'd want to eat, because a million other people have eaten it and calculated the points for you. The program is so popular, many healthy recipe sites provide the number of points in their recipes for you as well!
As well, the program doesn't necessarily "limit" your food choices. There aren't forbidden foods, just higher-calorie stuff is going to have more points. This is exactly how counting calories works, just made a bit simpler.
They do tend to give people very steep deficits, however.
Summary
A simpler way of counting calories, does the thinking for you
Limiting points = limiting calories = weight loss
Also puts an emphasis on group support, which is a huge component of weight loss most diet plans don't address
The Paleo Diet
What It Is
The idea behind the Paleo diet is that it tries to mimic what our ancestors ate (hence reference to paleolithic era), because they theorize that is the way our bodies evolved to eat, thus being "healthier" than our modern diets.
This usually (though Paleo has so many off-shoots now it's hard to keep up) means eliminating:
Bread / grains
Dairy
Most "processed" foods
They also emphasize eating lots of meat, including red meats.
The idea that all of our ancestors ate any particular way has been thoroughly de-bunked, but while the "philosophy" behind Paleo doesn't mean much, many people still follow this diet.
How It Works 
So if you remember how we mentioned that anytime you eliminate a food group, you decrease your calories, you'll know how this diet works.
Getting rid of breads, grains and processed foods will drastically lower your carbohydrate intake. This is why many people confuse low-carb with Paleo. With low-carb, you still theoretically could eat bread (just very small amounts), but you can't eat ANY on Paleo.
No worries though, just hop through some loopholes and gorge on Paleo-approved slices of bread or muffins!
However, gorging on those kinds of foods is akin to eating only Snackwell cookies and claiming to be eating a "low-fat" diet. Technically, yes, you are falling within the parameters, but you've lost the spirit of the diet...usually because it's too restrictive in the first place, so you feel the need to find ways around it!
Summary
The Paleo Diet eliminates breads, grains, dairy, and most processed foods
Eliminating food groups leads to reduced caloric intake, resulting in weight loss
Tends to increase protein intake and decrease carbohydrate intake, in very similar fashion to low-carb diets
Increase in satiety and decrease in water weight tends to lead to more weight loss
Intermittent Fasting (IF)
What Is It 
There are quite a variety of fasting diets out there - alternate-day fasting, 5/2 fasting, religious fasting, etc. Intermittent fasting is one of the more popular options for weight loss. It typically involves abstaining from eating for 16 hours out of the day, leaving an 8 hour window where you can eat your daily amount of calories.
How It Works
Believe it or not, it can be tough to over-eat when you only give yourself 8 hours to do so, especially if you primarily fill it with satiating foods like vegetables and meats.
One big reason that we've all put on so much weight in the past few decades has been snacking, and IF puts a stop to that by simply abstaining from ALL food for a period of time, typically during the daytime with a big evening meal.
There aren't really any other rules - you simply end up eating less because you don't give yourself as much time to pack in the calories.
There are some drawbacks. For some people, IF can lead to binge-eating problems (it certainly did with me), a pressure to abstain from food for longer than 16 hours, and for women especially it seems to lead to some negative consequences. However it is highly variable between individuals and I've known many people who found IF to be their preferred method of eating.
Summary
Fast for 16 hours a day, feast during an 8-hour window
Cuts calories by reducing the amount of time you are eating per day
Be mindful of the effect regular IF has on your eating habits, mood and energy levels
Conclusion
Did you figure out the magic trick to every single one of these diets?
They reduce your caloric intake without requiring you to count calories.
Mindlessly eating less seems to be something people see a lot of initial success with - unfortunately the restrictive nature of these diets tends to make them short-lived.
If you'll note, I didn't mention much of anything about the health claims of many of these diets. That's because as long as you're not eating chicken mcnuggets and potato chips for every meal of everday, chances are you're not going to see drastic health consequences from eating grains, enjoying some full-fat dairy, eating a meal after 8PM, or having the occasional processed candy bar.
Yes, you personally may feel bloated after you have some dairy or whole-wheat toast, but that's on you. That's why if low-carb makes you feel like crap, you shouldn't be scared to go off of it because someone somewhere told you sugar will make you fat and stupid.
Pick and choose from various dieting tips and strategies to find out what works best for you and your goals. Maybe you like the part about IF where you don't have to eat breakfast, and avoiding bread at lunch makes you feel more energetic for the end of your work day. Additionally I was having some bone pain that the paleo diet helped out with a lot. Bone health is extremely important to me and I am always seeking to improve it, because if you don't then you could be at risk for so many defects. If you wake up with some pain in your bones after this diet, or start it after visiting the chiropractor after car accident seek medical help right away. You need to ensure that you health and bones are in check before starting something that could mess with your body.
That's just one example. You'll probably be different, and there's no rigid diet plan out there that's going to know what will work best for you. Just look at the ONE THING every single diet out there has in common with each other - you eat less calories. If your goal is weight loss, that's really it. Promise.